2023 Hyundai Palisade in Clovis, NM
Hyundai represents the epitome of luxury and technological innovation. Vehicles from the automaker are likely to be some of the safest around Tucumcari. The 2023 Hyundai Palisade will take the safety aim one step further by sporting a range of active safety and security features. You can lease or buy a new Palisade with pedestrian detection, adaptive cruise control, blind spot detection, and rear cross-traffic assist. The Hyundai SUV features a sleek, modern design and a powerful engine that can manage any off-road terrain. Visit Hamilton Hyundai and learn more about the 2023 Hyundai Palisade.
2023 Hyundai Palisade Interior Amenities
The Palisade's cabin is up to par with the competition, offering plenty of storage and room to spread out as you drive around Portales, NM. The spacious front seats provide good lateral support, while the back seats offer a good amount of headroom and legroom. The air-conditioning and heating system is a variable-speed unit, which means that it can operate at varying speeds to provide precise temperature control in the SUV. You can fold the third row of seats to create more cargo space in the back. The cabin is also quiet, thanks to the use of sound-absorbing insulation.
2023 Hyundai Palisade Exterior Design
The new Hyundai Palisade features an aggressive double-waved grille with a C-shaped lip, unique headlamps, and a wide-opening rear end that transforms the vehicle into a versatile off-roader. This unique design allows the SUV to showcase its characterful looks while keeping it sleek and modern. The sloping roofline and sharp-edged design give the Palisade a stealthy look. For those worried about the side profile, the soft-top roof offers a panorama of the outside world without sacrificing headroom.
2023 Hyundai Palisade Safety Features
The 2023 Palisade has all the safety features you could want and more. It comes standard with various active safety and security features, including pedestrian detection, adaptive cruise control, blind spot detection, and rear cross-traffic assist. The SUV also boasts a surround-view camera system with a rear-facing camera that supports lane centering and other vehicle-following, forward collision warning, and park-in assist features.
2023 Hyundai Palisade Trim Levels
The 2022 Hyundai Palisade comes in four trim levels, including:

Palisade SE
---
Hyundai Palisade SE: The 2023 Hyundai Palisade SE model comes with easy-to-use controls and a roomy cabin.

Palisade SEL
---
Hyundai Palisade SEL: The mid-range 2023 Hyundai Palisade SEL features roof rails that allow for the attachment of a roof rack and a power tailgate. You'll enjoy heated seats, leather-wrapped steering, and impressive technology when you purchase the Limited model.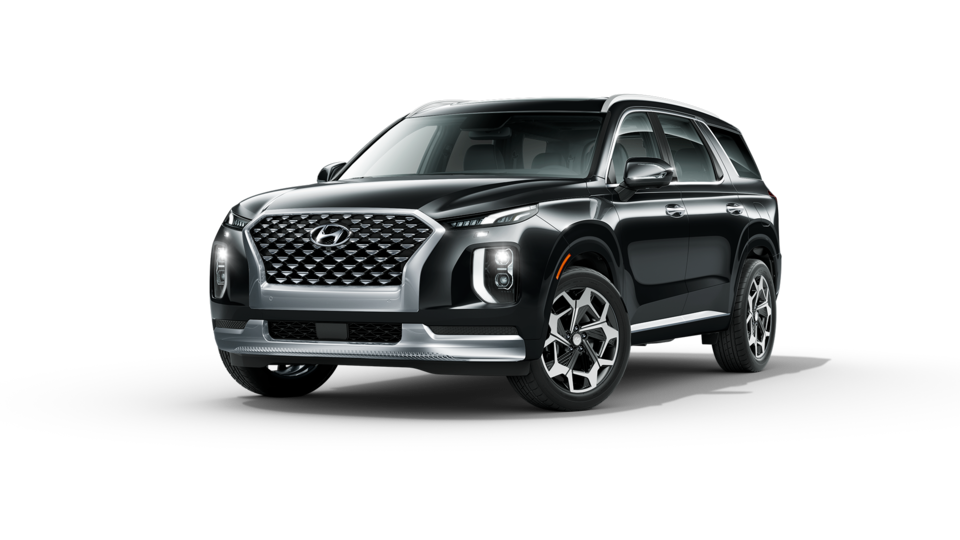 Palisade Calligraphy
---
Hyundai Palisade Calligraphy: the 2023 Hyundai Palisade Calligraphy model is the most extensive of the four and comes with a standard all-wheel-drive system, microfiber suede headliner, and a custom wheel design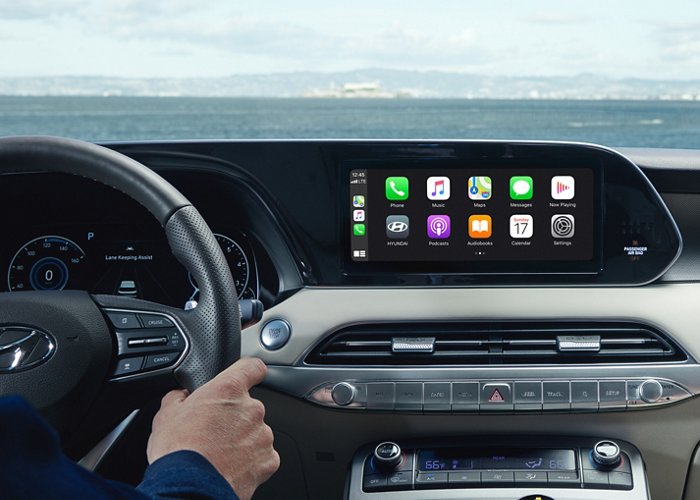 Technology Features
The SUV has a 12-inch touchscreen display in the center stack. It supports Apple CarPlay, so you can use your voice and access your information with just a touch. You can also enjoy the convenience of up to seven USB ports, and the Bluetooth system can connect two devices at the same time. The new Palisade has added features such radar-equipped cruise control. You can also check out the heads-up display that projects lane guidance onto the windshield, which is especially useful in snowy and rainy conditions outside the Muleshoe area.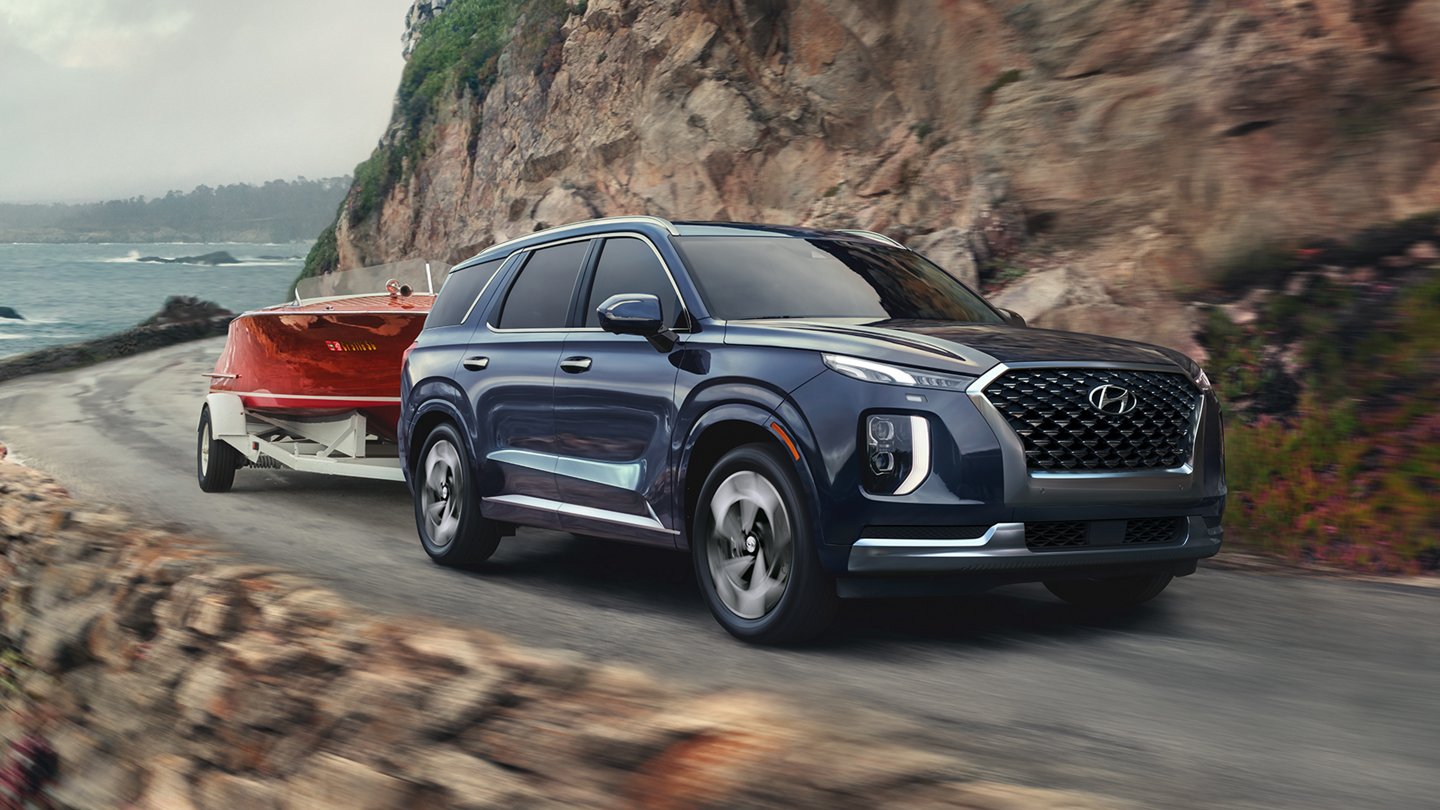 Performance Features
Performance and Transmission
The 2023 Hyundai Palisade draws its power from a 3.8-liter V6 engine that produces up to 291 horsepower. This engine connects to an 8-speed automatic transmission that allows for seamless shifting. However, you can manually shift the gears using the steering-wheel-mounted paddles. The vehicle provides drivers with a smooth and comfortable ride, thanks to its air suspension and independent front and rear suspension. The Palisade comes standard with front-wheel drive and an optional all-wheel drive, giving it excellent traction in both off-road and on-road conditions across Fort Sumner. All Palisade models come with a towing capacity of up to 5,000 pounds.
Are you eager to check out the interior and exterior amenities of the Hyundai Palisade? Visit Hamilton Hyundai and schedule a test drive with the Hyundai Palisade.