The 2023 Hyundai Sonata at Hamilton Hyundai
The new 2023 Hyundai Sonata is a fantastic front-wheel-drive sedan that will impress anyone around Clovis, NM. With its bold new looks, the 2023 Hyundai Sonata is the most stylish compact vehicle in its segment. It excels with its unique design, more powerful engine, and smarter technology. Below are some features that make the new 2023 Sonata a fantastic car to drive around Muleshoe.
2023 Hyundai Sonata Interior Features
The new 2023 Hyundai Sonata offers a highly refined modern interior with upscale materials and an array of performance features. The seats are contoured and feature leather seating surfaces. Also, they are adjustable and come with backrest reclining and adjustable head restraints that make the Sonata very comfortable. Also, seat warmers have been added to the 2023 Hyundai Sonata to keep your seats warm in the cold weather.  Furthermore, the 2023 Hyundai Sonata offers generous storage capacity and several storage compartments to make all your items easily accessible. The legroom is also excellent, making it easy to get in and out of the car.
Want to Talk Auto Finance?
2023 Hyundai Sonata Exterior Design
The 2023 Hyundai Sonata has a stunning exterior that distinguishes it from the leading cars. It features a bold new design that adds a sporty touch and an upscale appearance. The exterior looks nice with its new style and chrome accents. In addition, the new Hyundai Sonata has a beautiful grille with attractive LED headlamps, taillights, and side mirrors. The rims are also very stylish, adding a touch of elegance to the car.
2023 Hyundai Sonata Technology Features
The new 2023 Hyundai Sonata comes with smarter technology that is user-friendly and easy to operate. The integrated navigation system and a large touchscreen allow full access to all your entertainment options. It is also easy to use and connect to your smartphone through Bluetooth. In addition, the Hyundai Sonata offers a hands-free voice-command system with advanced voice recognition technology, making it very easy to operate. Furthermore, the 2023 Sonata has an LCD in the back and an HD radio. It also offers an external memory slot, AUX/USB port, and more.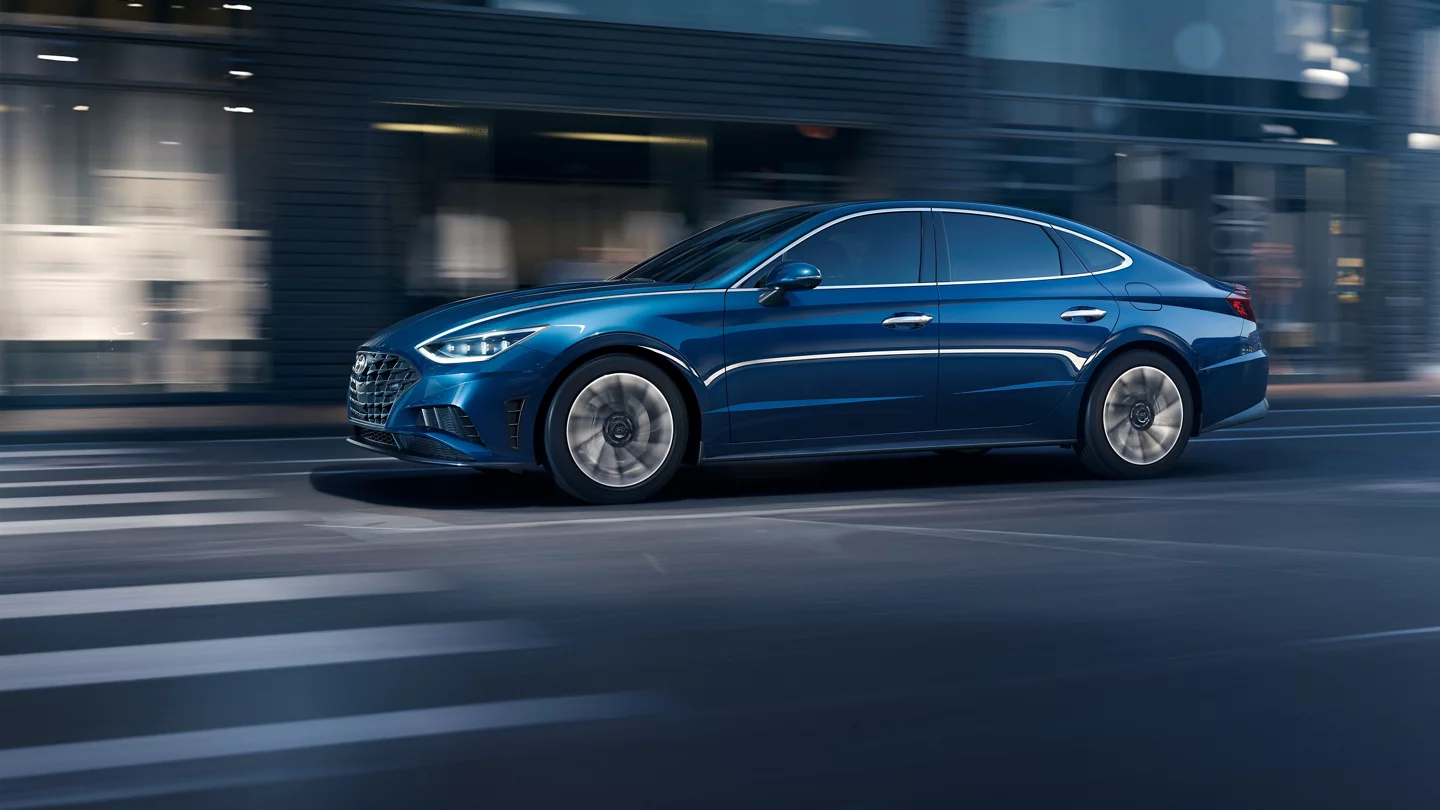 2023 Hyundai Sonata Performance Features
Performance Features
The 2023 new Hyundai Sonata offers excellent performance features, making it one of the most powerful cars in its class. Its 1.6-liter base engine delivers up to 191-hp engine, with a 27-mpg fuel efficiency when driven in the city and 37mpg on the highway. The new 2023 Sonata has a standard 8-speed automatic transmission that delivers user-friendly shifting. With the intercooled turbo regular unleaded engine, you can enjoy the most refined driving experience around Portales, NM.
2023 Hyundai Sonata Safety Features
Safety Features
The 2023 Hyundai Sonata offers top safety features for its customers. It comes with a rearview monitor, which has been upgraded. The monitors allow you to see a clear view of what is behind you, making it very safe to operate the new 2023 Hyundai Sonata. It also comes with a blind spot monitor that alerts you if a vehicle is approaching your blind spot. In addition, the new Hyundai Sonata has the most advanced airbags, which protect you in the event of a crash. The tire pressure monitoring system in the new 2023 Sonata also alerts you if any of your tires have low pressure. Lastly, the car also comes with stability control, traction control, and an antilock braking system (ABS), providing full protection from accidents.
2023 Hyundai Sonata Trim Levels
Trim Levels
2023 Hyundai Sonata SE
2023 Hyundai Sonata SEL
2023 Hyundai Sonata SEL Plus
2023 Hyundai Sonata N Line
2023 Hyundai Sonata Limited
Visit Hamilton Hyundai Today!
The new 2023 Hyundai Sonata is a great front-wheel-drive sedan that is extremely attractive to look at and offers a very comfortable ride. This stylish car will make you stand out from the crowds in Fort Sumner and Tucumcari. As a result, you get an extremely fun-to-drive car that is user-friendly and safe to operate. If you are interested in the 2023 Hyundai Sonata, contact us at Hamilton Hyundai in Clovis, NM and schedule a test drive today.
Make an Inquiry
* Indicates a required field